AMPA's Open Day is this Saturday!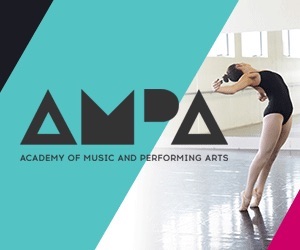 The Academy of Music and Performing Arts (AMPA) in Alexandria, NSW has announced its Open Day on Saturday, August 25. If you or someone you know is an aspiring performer, choreographer or songwriter/producer, this is their opportunity to explore the ins and outs of studying a degree in Music, Dance or Music Theatre at AMPA.
From 10 a.m. to 2:30 p.m. at 136 Chalmers Street, Surry Hills, the Open Day will present performances, jams and meet-and-greets with current students and staff. Attendees can get course information and experience a day in the life at AMPA.
The Admissions Team and Head of Dance Adele Hyland will be onsite all day to answer any audition and application related queries. The Industry Panel will welcome AMPA Bachelor of Dance Graduate Bonnie Curtis. The audience can ask her questions about the industry, performance and all other things dance.
Curtis is the director of Bonnie Curtis Projects. Her debut full-length work GIRLS GIRLS GIRLS premiered in 2017 and shortly after they toured Queensland. More recently, GIRLS GIRLS GIRLS has been selected to perform at the upcoming Melbourne Fringe Festival.
According to AMPA Admissions Manager Ana Mateo, Open Day will also be host to a choreographed performance showcased by their current cohort. This will be followed by a workshop that potential AMPA applicants are welcome to join.
Those interested in auditioning for one of AMPA's dance courses can do so on Open Day from 2 p.m. onwards. This will require applicants to participate in a technique class and present one choreographed solo one minute in length. Applications should be made beforehand at www.ampa.edu.au/apply.
---