'Aladdin' panto coming to Sydney in 2015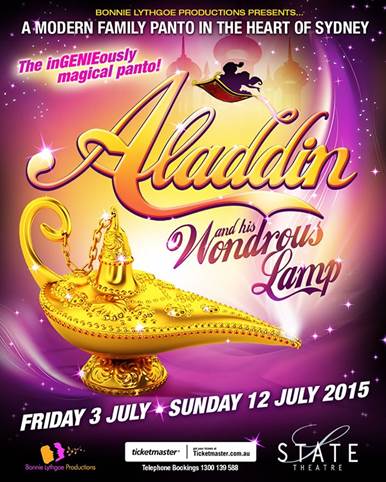 Bonnie Lythgoe Productions recently announced the Australian premiere of Aladdin and his Wondrous Lamp, set to open at the State Theatre in Sydney in July 2015.
Returning from this year's successful inaugural production of Snow White – Winter Family Musical in Sydney, Director Bonnie Lythgoe (known for her work with So You Think You Can Dance Australia) will bring an updated musical version of the classic Arabian Nights tale to Australian audiences.
In the style of a traditional British family panto, Aladdin and his Wondrous Lamp is a singing, swinging and soaring spectacular adventure that features family-friendly comedy, magic and today's music, which will appeal to everyone from the ages of 4 to 104!
Lythgoe said Aussie audiences can expect new characters and even more celebrities, as well as a few surprises. (Hint: Viewers might expect a change in the weather during the show.)
"I am over the moon to be bringing panto back to Australia because I never thought we would have this overwhelming feeling about panto here. One of my real loves is the subject Aladdin, which I believe is the perfect show to bring Down Under," Lythgoe said.
The show will take the more familiar, traditional tale and inject contemporary chart topping songs including "Treasure" (Bruno Mars), "Shake It Off" (Taylor Swift), "Viva La Vida" (Coldplay), "Chains" (Tina Arena), "Party Rock Anthem" (LMFAO), as well as incorporating current local culture references, into the script.
Lythgoe has been staging pantos in the U.S. with huge success for a number of years. She has already produced Snow White, Aladdin (U.S.) and her latest production, Sleeping Beauty and her Winter Knight, which will premiere at the Pasadena Playhouse in L.A. starting December 10.
Well known for her creativity and involvement in global television hits American Idol and So You Think You Can Dance, Lythgoe is dedicated to bringing affordable theatre to families across Australia through fun musical theatre the whole family can enjoy.
Lythgoe will soon be showcasing her producing and directing skills once again whilst she spends time over the next month in Australia casting for the production. Audiences can expect to see a stellar lineup of local and international celebrities in what will be a star-studded Australian cast for Aladdin and his Wondrous Lamp next year.
Showbiz names including Sir Cliff Richard, Kyle Sandilands, Magda Szubanski, Jimmy Rees, Peter Everett and Josh Adamson all starred in Lythgoe's Snow White – Winter Family Musical earlier this year at the State Theatre, receiving rave reviews from both the critics and public alike.
Aladdin and his Wondrous Lamp will be presented at the State Theatre in Sydney from Friday, July 3, 2015. Tickets will go on sale to the public on Monday, November 17 through Ticketmaster.com.au.