2018 marks 7th Australian Tap Dance Festival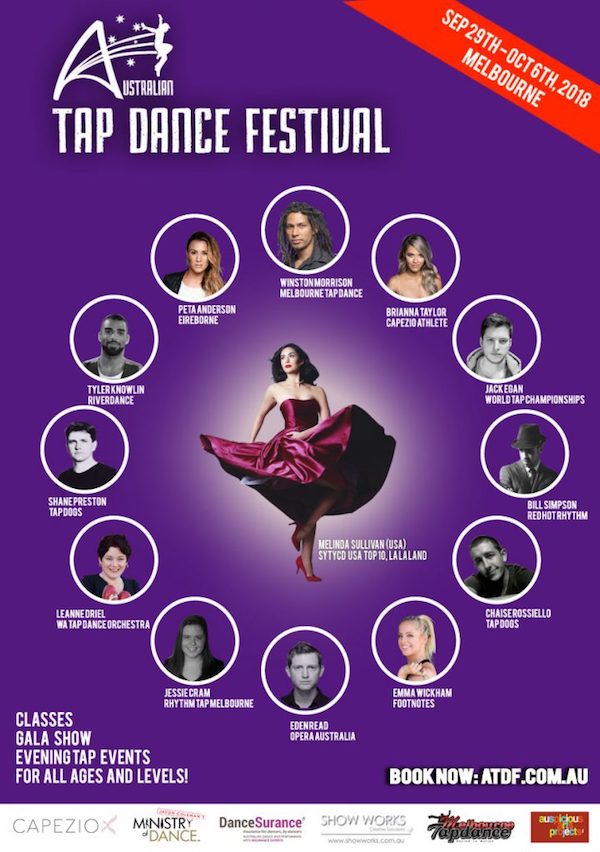 Australia's premier celebration of tap dance returns to Melbourne on September 29 – October 6! Now in its seventh edition, the Australian Tap Dance Festival will bring the tap community and public together to learn, share, meet and enjoy all things tap.
A world-class lineup of dancers will shuffle into Melbourne from across Australia, New Zealand, Europe and the United States for this event. Dubbed the "only festival of its kind in Australasia", it offers an action-packed week of tap and choreography introductions, master classes, jams, dance battles/competitions, group practices, seminars and special events for all ages and levels. The festival will run at one of Melbourne's best arts venues, Jason Coleman's Ministry of Dance.
This year's festival faculty features an exceptional ensemble of tap artists, including international headliner Melinda Sullivan (The Late Show with James Corden, SYTYCD USA Top 10, La La Land), Winston Morrison (founder of Melbourne Tap Dance and Australian Tap Dance Festival), Tyler Knowlin (current touring member of Riverdance), Jack Egan (founder and director of The Forge Tap Project), Peta Anderson (touring member and creator of Eireborne), Capezio Athlete Brianna Taylor (currently touring with Rhythmatic Tap Co in Los Angeles), Bill Simpson (choreographer and performer in U.S. and Australian tour of Strictly Gershwin) and Shane Preston (teacher, choreographer and performer). Each carefully selected faculty member will also be offering special five-day residencies, teaching full performance routines on October 1 – 5.
"The art of tap dance is always evolving and still thrives across the globe since its early American roots in the 1900's," said Festival Producer and Dancer Ella Lehaf. "From childhood tap lessons and adult fitness classes to the world stage showmanship of Tap Dogs, Riverdance and even The Book of Morman, tap dance continues to be rich with possibilities and new techniques, which we aim to showcase at the festival."
The 2018 festival schedule includes a free "Never Tapped Before" beginners class, Tap Trivia Night, Talking Tap (faculty Q&A), Rhythm Creation (improvisation night with live jazz band), Capezio artist showcase "Future of Tap", tap battle "Cutting Competition", free Lunchtime History Talks and jams, and then the penultimate event, the Australian Tap Dance Festival Gala, showcasing the superb skills of a cavalcade of international and Australian tap dancers.
For more information, or to register, visit www.australiantapdancefestival.com.au.
---