2017 AICD International Ballet Awards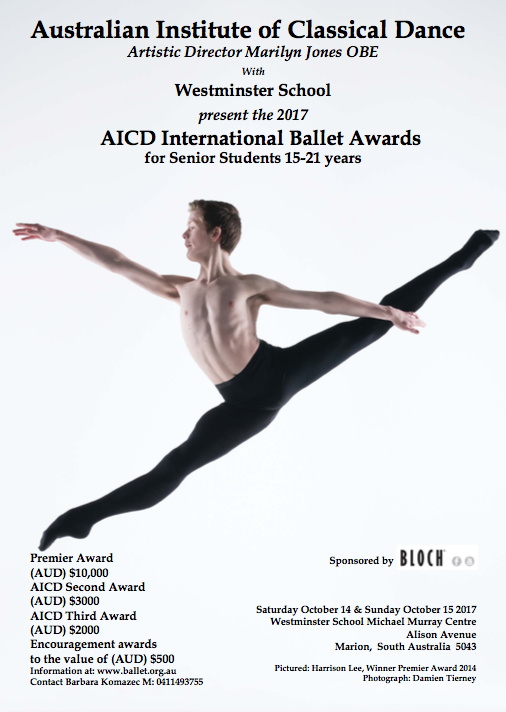 The Australian Institute of Classical Dance (AICD) will soon host the 2017 AICD International Ballet Awards in South Australia. Set to run October 14 and 15, the competition will see elite dancers aged 15-21 from across the country descend on Westminster College.
Dancers will compete for a Grand Prize of $10,000, with over $16,000 total being awarded at the event.
The AICD is a non-profit organisation with a board composed of respected members of the dance profession, set up to encourage and support the development of Australian Classical Dance. The AICD International Ballet Awards were launched by Marilyn Jones OBE after she received a Creative Arts Fellowship from the Australian Government. The awards have been held bi-annually since 2001.
Previous winners include Montana Rubin (2012) who went to The Australian Ballet School, danced in the Prix de Lausanne and is now a member of the corps de ballet at The Australian Ballet, and Harrison Lee (2014) who used the prize money to travel to England and across Europe, taking classes at The Royal Ballet School in London and in 2015 won the prestigious Prix de Lausanne. In 2017, Lee was named by The Australia Council and Perpetual to be a recipient of one of the 2017 Marten Bequest Scholarships.
This year's Finals adjudicators include David McAllister, Marilyn Jones and Daryl Brandwood. For more information, visit http://www.ballet.org.au/wordpress.
---