2014 NZSD Graduation Season opens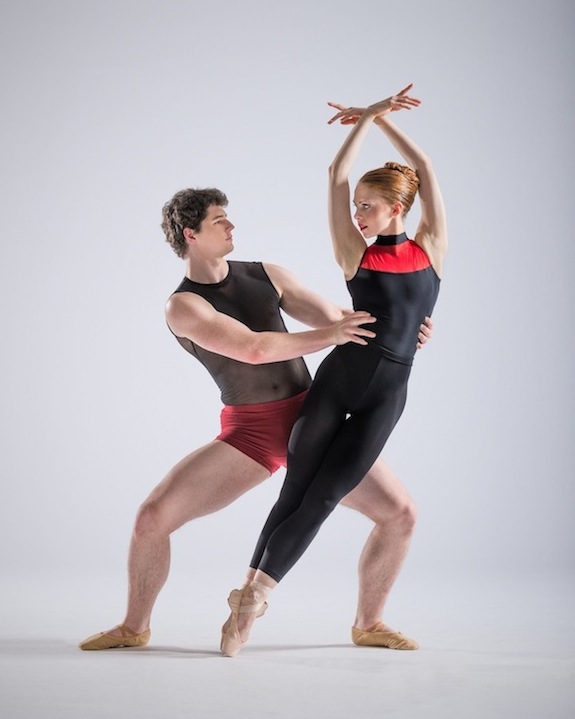 Now through November 29, the New Zealand School of Dance (NZSD) presents a Graduation Season in Wellington reflecting the School's dedication to excellence and innovation. The Graduation Season is a rare opportunity to experience performance by the next generation of dance professionals as the students perform the work of iconic choreographers from the worlds of classical ballet and contemporary dance.
This season's performances present George Balanchine's great masterpiece Concerto Barocco, last presented at the School in 2001. Victoria Simon returned to stage this challenging work that requires phenomenal stamina, technique and discipline as two elegant lead ballerinas each depict an instrumental soloist in Bach's virtuosic double-violin concerto.
Dance theatre artist Douglas Wright's tranquil and powerful RAPT represents New Zealand choreography in this year's programme. NZSD graduate Craig Bary, who danced in the original RAPT cast at Auckland Arts Festival in 2011, worked with the contemporary students on key excerpts to be performed.
"For the dance to be legible and forceful, the movements must be performed with meticulous precision. This is a difficult work for any dancer. Craig did an exemplary job laying down the skeleton of this 'new' work — I think we learnt as much from the process as the students did. The dancers were and are extraordinary," Wright noted.
Among the other highlights of this exciting season is Purcell Pieces from acclaimed Dutch choreographer Nils Christe. This choreographic presentation is the result of a collaboration between the NZSD, Queensland Ballet and Singapore Dance Theatre. It soars with breathtaking pace as the large cast of both classical and contemporary students are brought together. In this work the beautiful costumes, bright colours and a finale of cascading rose petals, come together in joyous celebration of dance.
"The 2014 Graduation Season is an exciting opportunity for students of the New Zealand School of Dance to present the best of traditional ballets with the most exciting of innovative developments," stated Garry Trinder, NZSD Director. "The opportunity to be part of a programme with such diverse works is a valuable one for any dancer, and helps prepare our students for the increasing demands of the professional dance world. The Graduation Season performances are always a highlight for everyone at NZSD and I look forward each year to watching the students as they prepare for and present these challenging works."
Another international guest choreographer to work with the students this year is Dutch choreographer Wessel Oostrum, whose poignant and touching solo The Speech is danced to a monologue by Charlie Chaplin from the film The Great Dictator. Oostrum said, "In this world we have to stand together and help each other to find the right balance of living — free from greed, intolerance." Within this year's programme, The Speech stands out as a tribute to those who lost their lives in World War I.
Other highlights for the season include Val Caniparoli's duet Double Stop, originally created for a San Francisco Ballet gala in 2011 and danced to a piece for solo cello by Philip Glass, and a new work for the contemporary students by NZ choreographer and artistic director of the World Of WearableArt Awards show, Malia Johnston.
The New Zealand School of Dance is well known as the tertiary institution of choice for dancers wishing to train full-time towards a career in ballet or contemporary dance and has established a strong international profile. Many graduates of the School have gone on to make significant contributions to the dance world both nationally and internationally. For more information or to book tickets to Graduation Season, visit www.nzschoolofdance.ac.nz.
Photo: Dancers Samantha Vottari and Tynan Wood in Double Stop for NZSD Graduation Season 2014. Photo by Stephen A'Court.
---