2017 NATIONAL COLLEGE OF DANCE AND JUNIOR ACADEMY SUMMER SCHOOL BACK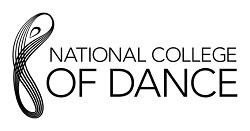 National College of Dance and Junior Academy
2017 Junior Summer School
A perfect school holiday activity for 3-10 year olds, with age appropriate ballet and jazz classes and craft activities for the younger ages and ballet, jazz, contemporary and choreography for the older students. They will have a wonderful time and will demonstrate what they've learned on the afternoon of the last day.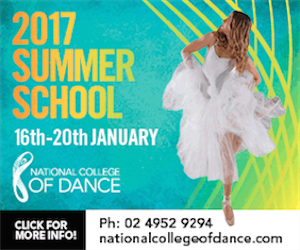 2017 National College of Dance Summer School
Guest Artists
Kirsty Martin - Australian Ballet School Teacher and ex principal of Australian Ballet Company
David Mack - Sydney Dance company and international contemporary dancer
Cody Moore - professional acrobatic and gymnastic instructor
Artistic Director - Brett Morgan
Head of Diploma course - Timothy Gordon
Jazz and Contemporary Teacher - Zoe Jones
A week of fun, intensive dance classes to get them ready and started for the year ahead. Be coached by Australian Ballet School and ex Australian Ballet Principal Artist Kirsty Martin in Classcial and Classical Repertiore and David Mack, international contemporary artist and ex - principal of Sydney Dance Company in Contemporary and stage craft as well as learn safe methods performing dance acro in your choreography, creating a incredible jazz routine with Zoe Jones plus much much more.
Subjects
2017 Junior Summer School
Ballet, Jazz, Contemporary, choregraphy and costume making
2017 National College of Dance Summer School
Classical, classical repertoire, Contemporary, Contemporary repertoire, stage craft, acro, jazz and Q&A with guest artists.
Teachers
2017 Junior Summer School
Jake Burden – principal Ballet Dancer
Emma Jones – Principal Ballet Dancer
Isabelle Leonard – NCD teacher
Jamie King – NCD teacher
2017 National College of Dance Summer School
Kirsty Martin – Teacher at Australian Ballet School
David Mack - International Contemporary Artist – Sydney Dance Company
Cody Moore – Gymnastics Coach
Brett Morgan – NCD Artistic Director
Timothy Gordon – NCD Head of Diploma teacher
Zoe Jones – NCD Contemporary and Jazz Teacher
Dates

2017 Junior Summer School
11th – 13th January 2017
ages 3+ to 10 years
Booking details: www.trybooking.com/NJQL
2017 National College of Dance Summer School
16th- 20th January, 2017
ages 10+ to pre-professional
Booking details www.trybooking.com/MMRV
Or visit our website to download a registration form.
Venue
National College of Dance Studios
151 Young Street (Cnr Young and Lloyd Sts)
Lambton NSW 2299
Contact
Reception
Christine, Jakana or Vicki
National College of Dance and Junior Academy
Ph: 02 49529294
Email: admin@nationalcollegeofdance.com
www.nationalcollegeofdance.com