VIC State Ballet auditioning this weekend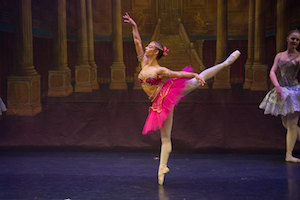 The Victorian State Ballet will soon hold auditions for 2018 intake to its Pre-Professional Program/Finishing Year and its Senior Program. It will also hold actual Company auditions the same weekend in Melbourne.
Located in Viewbank, a suburb of Melbourne, the Victorian State Ballet is celebrating its 14th anniversary this year as a premier ballet company in Victoria. Directors Martin and Michelle Sierra lead the professional troupe and the pre-professional program in the pursuit of artistic excellence.
The pre-professional program specifically seeks to provide emerging artists with the highest level of classical ballet training in technical and artistic skill for today's dance industry standards.
Internationally recognised faculty members offer daily training and coaching in classical ballet, contemporary dance, pas de deux, pointe work, male technique, production, artistic coaching, repertoire and body conditioning. The one-year intensive course offers a unique platform of opportunities to graduate students to open up their professional dance career. They'll receive exposure to the daily life a professional company with rehearsals and performances with the ensemble.
Overall, the course encompasses seven different seasons throughout the year, with approximately 30-40 performances, plus workshops and interstate shows.
The other option, the Senior Program, is catered to students 15-18 years old embarking on a professional career in dance whilst completing their academic studies. The students have access to tailored coaching and regular performance opportunities. The Senior Program students receive mentoring by VSB's Principal Artists.
The Melbourne auditions will be Saturday, September 9. From 9:30 a.m. to 12:30 p.m., the Pre-Professional Program/Finishing Year auditions will be held in Studio 1. At the same time, Senior Program auditions will be in Studio 2. Finally, Company auditions will be Sunday, September 10 from 9:30 a.m. to 12:30 p.m. at 29/10 Mirra Court, Bundoora.
Auditions will consist of a classical ballet class – pointe work for ladies and coda work for the males. Both male and female auditionees will need to prepare classical ballet repertoire variations of their choice.
For more information on auditioning in person, or to learn how to audition via DVD, click here or visit www.victorianstateballet.org.au.
See Dance Informa's Full Time Dance & Auditions Guide to learn more about the best full time courses in Australia, New Zealand and New York.
Photo courtesy of Victorian State Ballet.
---