The McDonald College to hold auditions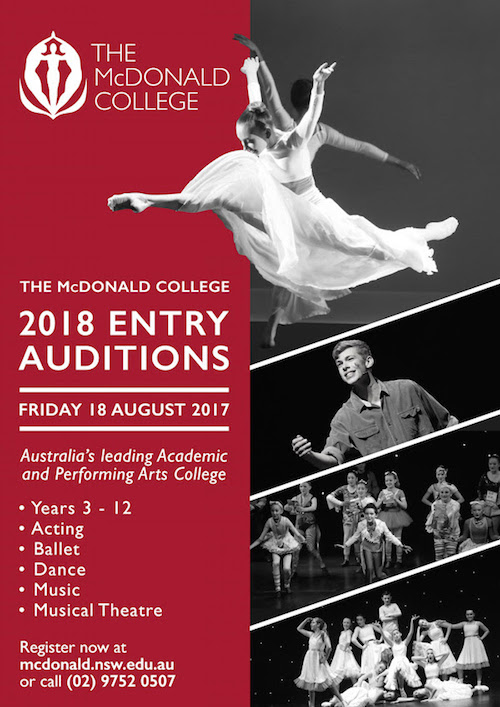 As the only school of its kind in Australia, The McDonald College prides itself on having been a performing arts leader for more than 30 years. Twice a year the College runs auditions for students interested in studying Acting, Ballet, Dance, Music or Musical Theatre whilst they are at school. The College has announced it will hold 2018 entry auditions on Friday, August 18.
As a Year 3-12 co-educational, non-denominational school, The McDonald College is Australia's leading Academic and Performing Arts College. Alumni include Amanda McGuigan (The Australian Ballet), Dimitri Kleioris (An American in Paris on Broadway, Flesh & Bone), Harrison Lee (2015 Prix de Lausanne Winner, Royal Ballet School), Kip Gamblin (The Bodyguard: Musical, All Saints, Home & Away, Neighbours), Lachlan Monaghan (First Artist at Birmingham Royal Ballet) and Emma Watkins (The Wiggles).
For more information on The McDonald College's upcoming 2018 entry auditions, email registrar@mcdonald.nsw.edu.au or call (02) 9752 0507.
Visit www.mcdonald.nsw.edu.au for all the details on The College's courses.
---