SCD to hold 2018 Scholarship Auditions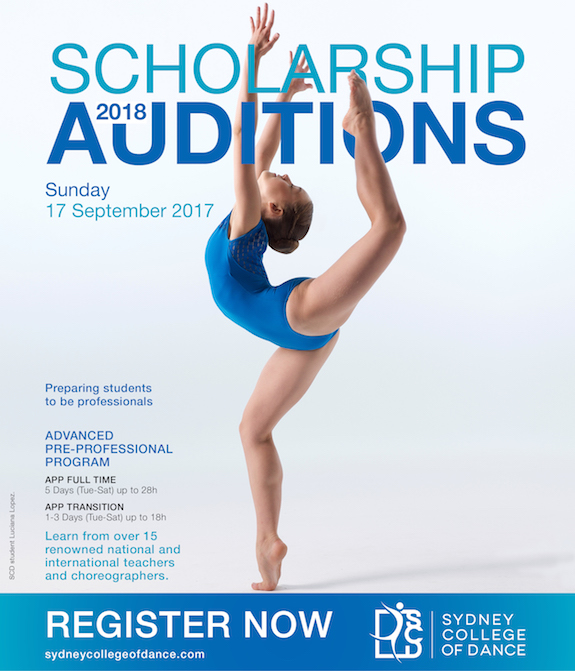 Sydney College of Dance (SCD) will hold Scholarship Auditions for its Advanced Pre-Professional Program on Sunday 17 September. At SCD, Full Time students must have completed the Royal Academy of Dance (RAD) Intermediate level or have equivalent dance training and technique. Transition students need to have completed Intermediate Foundation level or equivalent schooling.
Want to learn from over 15 renowned national and international teachers and choreographers? Then make plans to attend the Scholarship Auditions and give it your best!
When asked what SCD officials are looking for in auditions, the school responded that it's looking for passionate dancers with established, clean, classical technique and an open-minded approach to new contemporary styles. They should demonstrate the ability to interpret choreographic direction and show their artistic, musical and dynamic qualities to their best ability.
If accepted to SCD, dancers can expect to have input from both contemporary and ballet mentors in their training. SCD believes all dancers have a unique artistic voice and need the guidance to find that voice.
SCD also knows that professional dance companies want artists who can absorb the style and language of the choreographer and embody their movements and be one step ahead of the other applicants. The course will help students be able to achieve various movement languages.
Dancers can best prepare for their audition by making use of the warm-up studio before the audition commences. Dancers are expected to present themselves in a professional manner, be open to new experiences, and be prepared to display artistry as well as technical ability. Female dancers will be required to use their pointe shoes at some time during the process.
To register now, head to www.sydneycollegeofdance.com.
---