EDC and OperaQ premiere 'Mozart Airborne'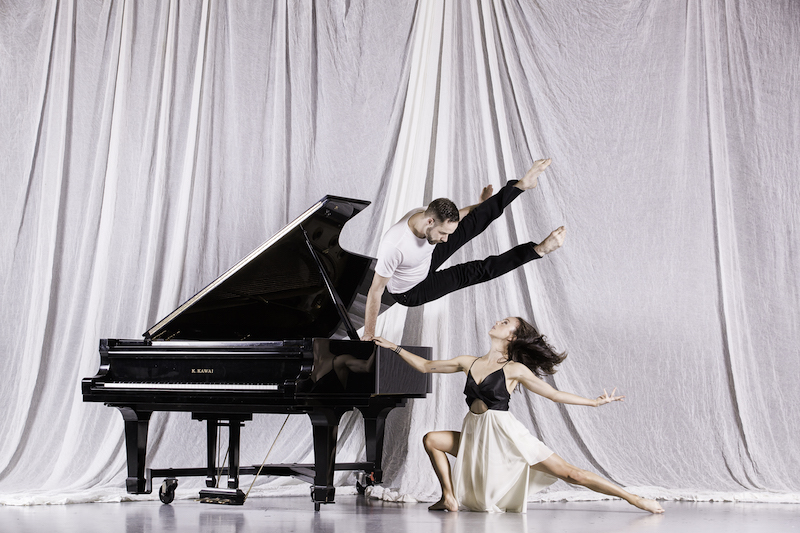 In celebration of the beauty and complexity of Mozart's sublime arias and ensembles, Expressions Dance Company (EDC) and Opera Queensland will combine movement and music in the stunning premiere of Mozart Airborne, running August 5 – 12 at the Cremorne Theatre, QPAC.
Mozart Airborne will be the first production to be staged in the newly refurbished Cremorne Theatre and will feature virtuosic pianist Alex Raineri alongside a talented ensemble of six singers and six dancers.
Co-directed by OperaQ's Artistic Director Lindy Hume and EDC's Artistic Director Natalie Weir, the performances will feature music from Don Giovanni, Così fan tutte and The Marriage of Figaro alongside exciting new works from six of Australia's most celebrated choreographers. Weir describes the work as "mesmerising."
"A range of contemporary dance styles will merge together, inspired by the evocative music of Mozart, exquisitely-played piano and the soaring voices of OperaQ singers," Weir said.
Woven into the performance is a compelling narrative which traces the stories of everyday people experiencing life's big emotions: the pain of infidelity or separation, religious awakening, the ecstasy of love, a silly mood or black humour. Citing Mozart's keen interest in the human condition, Hume said the idea for the project started with the idea of Mozart as a great humanist.
"Mozart had an extraordinary ability to express human emotions through his work, and this inspired both Natalie and I to start a conversation about a collaboration where music, voice and movement hold equal value," Hume said. "We saw it as an opportunity to bring OperaQ and EDC artists and our respective audiences together in celebration of all the flaws, foibles and magnificence of the human condition."
QPAC Chief Executive John Kotzas said Mozart Airborne reflected the dynamism of the state's arts scene.
"At QPAC, we are proud to support the development and premiere of a new Australian work by our long-term collaborators EDC and OperaQ. Under the artistic leadership of Natalie Weir and Lindy Hume, this genre-defying performance is the type of bold new work that goes a long way in putting Queensland in the creative spotlight," Kotzas said.
Complemented by Bruce McKinven's minimalist design and Ben Hughes' evocative lighting, an incredible soundscape and an overarching emotional landscape, Mozart Airborne will see 13 extraordinary artists come together to deliver a spellbinding performance.
For more information, visit www.operaq.com.au.
Photo: EDC's Alana Sargent and Richard Causer for Mozart Airborne. Photo by Jeff Camden.
---