'Ballerina' film to be released in cinemas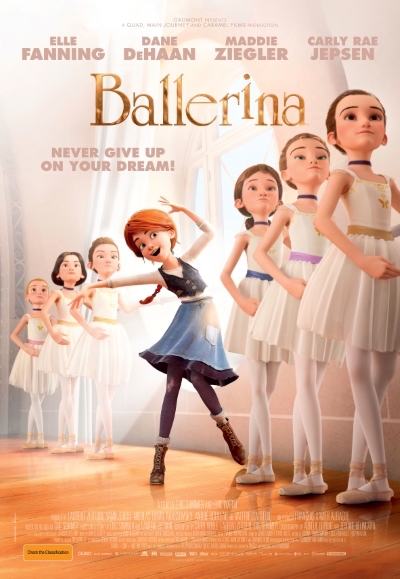 The new animated film Ballerina is set to be released in Australia on 12 January 2017. Co-directed by Eric Summer and Éric Warin, it stars the voices of actress Elle Fanning, dancer and model Maddie Ziegler, actor Dane DeHaan, and Canadian singer Carly Rae Jepsen.
Set in 1879, the story follows a poor orphan girl named Félicie (played by Fanning). Félicie dreams of becoming a ballerina, but faces the dismal reality that she has never had any formal training. In hopes of changing this, she runs away from her orphanage in rural Brittany and heads for Paris, accompanied by her friend, a young inventor named Victor (played by DeHaan).
However, the duo is soon separated, as Victor joins a workshop led by engineer Gustave Eiffel (yes, of Eiffel Tower fame) and Félicie is given the chance to audition for the Paris Opera Ballet. As she trains, Félicie's archenemy is the bratty and competitive Camille (played by Ziegler).
The mysterious caretaker – named Odette and voiced by Jepsen – helps Félicie face the various challenges that come along. Will Félicie be able to turn her dreams into reality?
Melissa Stewart of Insights called the film "a heart-warming adventure." She wrote, "With the animation capturing the elegance of ballet, it is hard not to be mesmerised by the pirouettes and grand jetés."
The film, which was first premiered at the Mon Premier Festival in October, was released in France and the U.K. this month. Watch the trailer below.
Learn more at www.ballerinamovie.com.au.
Movie poster image courtesy of Gaumont and StudioCanal.
---